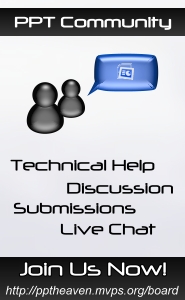 Gallery
This section features PowerPoint animations, PowerPoint games, artworks, anime and movies created by PowerPoint Heaven Contributors. Note that the PowerPoint animations or presentations found here do not include tutorials. If you are looking for PowerPoint tutorials, check out the Tutorials section.

Requirements: The samples on this site make use of advanced PowerPoint animations that are introduced in PowerPoint 2002/XP and above. If you do not have PowerPoint 2002/XP and later versions, you will need to download the free PowerPoint Viewer 2003 as the minimum requirement for viewing.

Note: The animations found in these presentations or showcases are done entirely using PowerPoint. NO animated gifs, video or flash are used.






Quick Links (Click on the links to visit different sections)

[PowerPoint Showcase] [PowerPoint Anime] [PowerPoint Artworks]
[PowerPoint Games] [PowerPoint Movies]






Beautiful Nature
Divyansh, AlexF
PowerPoint Artwork
Jan 03, 2010
Jan 03, 2010 - War Medic (Demo)
Jan 03, 2010 - Beautiful Nature
Jan 03, 2010 - Pure PPT Mathematics 4
Jan 03, 2010 - The Art of PowerPoint
Jan 03, 2010 - Pointer's Way 2: Colori
Jan 03, 2010 - ColourCrisis
Jan 03, 2010 - Linemachine (Demo)
Jan 03, 2010 - LOST: Galaxy (Demo)





This section features showcases done with the use of advanced PowerPoint animations which can be useful when implemented into presentations and games.


Back to Top

Anime is a Japanese style of motion-picture animation, characterized by highly stylized, colorful art, futuristic themes and robot-like characters. PowerPoint Anime shows you how anime can be drawn and animated using PowerPoint.

Zzangdol's Projects - Click here to enter link
Han Byul Jang started using PowerPoint when he was only 9 years old. Han Byul Jang is a rising star, PowerPoint artist and animator in Korea's PowerPoint Expert Club (An online PowerPoint Community). Also known as Zzangdol in the community, he can draw realistic anime characters (completely using PowerPoint's Freeform tool) and animate them all in PowerPoint.

Zzangdol's PowerPoint artworks are now hosted by PowerPoint Heaven so that you can see how Anime characters are drawn and animated in PowerPoint and take PowerPoint's Freeform to the expert level!


Back to Top

This section features artworks drawn in PowerPoint. See how one can draw PowerPoint Arts and realistic drawings in PowerPoint!


Back to Top

This section features games that are created using PowerPoint. They do not lose out (or even better) to Flash games found on the internet! Having fun trying them out.


Back to Top

PowerPoint Movies are animated shows or cartoons that contains complex PowerPoint animations. This section will show you movies similar to those done using Macromedia Flash. See what PowerPoint can do with animations under this section. PowerPoint Heaven is the first and only site that produces real animated cartoons and movies using PowerPoint. Be amazed!

Animation Vs Newbie
Date Published: October 20, 2007
Click here to download
Submitted by castleofgod. Animation Vs Newbie is a PowerPoint Movie inspired by Animator vs. Animation, with a stick figure interacting on PowerPoint 2007 interface with the animations done entirely in PowerPoint. This submission is the winning entry for Korea's PowerPoint Expert Club Intro Animation Contest 3.



Blastoons' Projects - Click here to enter link
Blastoons specializes in creating PowerPoint Movies. He uses Microsoft PowerPoint as the sole animation software package. Works are realized using animations, drawings, and 3D shape tools in PowerPoint and exporting the resulting presentations to video with ACA Capture Studio and CamStudio.




Evolution Warriors Series - Click here to enter link
Evolution Warriors is a PowerPoint Movie inspired by Shadow Fighter. This movie contains 1,500+ custom animations and all graphics are done entirely with PowerPoint's AutoShapes.



Back | Top