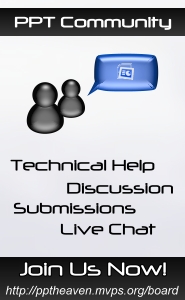 Contact
For advertising opportunities, feedbacks, interesting PowerPoint works to share, please drop us an email at pptheaven[AT]gmail.com (Replace the [AT] with @).








Advertising Opportunities
PowerPoint Heaven offers a wide range of advertising opportunities such as banner and text advertisements. For more information on advertising formats and rates, please drop us an email.

Content Submission
If you are interested in becoming a PowerPoint Heaven Contributor, please drop us an email along with your submission(s). Please take note that by submitting your content to us, you agree that:
PowerPoint Heaven will not claim ownership over your work.
PowerPoint Heaven will not be held responsible or liable for any work submitted.
No part of the work or the use of the work by PowerPoint Heaven will violate, misappropriate or infringe upon any common law or statutory rights of any person or entity, including rights relating to copyrights, contractual rights, trademarks, privacy, or publicity. You guarantee to PowerPoint Heaven that you are the sole and exclusive owner of the work, or you are properly licensed to use all elements in the work, and that any violations will result in immediate deletion of the work.
PowerPoint Assistance
We do not offer technical supports or problems related to PowerPoint through email. If you have general / technical problems related to PowerPoint, please post them in the PowerPoint Heaven Discussion Board instead.