PowerPoint Heaven eConvention 2008








What is and What's on PPTH eCon 2008?

PowerPoint Heaven eConvention 2008 is an annual online convention held on
27 September, a month after PowerPoint Heaven Anniversary. PPTH eCon 2008 (abbrev.), is a day where PowerPointers get together to discuss, review and submit their latest PowerPoint works. For the viewers and non-participants, this is also a day where you can get to see a wide variety of PowerPoint works created by the contributors.

There are several events for PowerPoint Heaven eConvention 2008. The events include: eCon Awards 2008, Contributor of the Year, Submissions @ eCon, Discussions @ eCon.


An eCon Award is a form of recognition to recognize a contributor for his hard work and effort for the year. eCon Awards 2008 is broken down into two parts. The first part is the voting for
'[Category] of the Year' by the public. This is a pre-eCon event starting from 1 - 26 September. The second part is the awards giving event held on 27 September.

Criteria for nominations include:
Works eligible to be nominated for voting are the ones submitted on PowerPoint Heaven in year 2008.
Only one nomination per contributor for each category (using his/her best work) will be accepted.
Each work is allowed to participate in only one category.
As this is the first eConvention, 'Special Entry' permits works submitted from 1 January 2007 to 31 December 2007 be eligible for nomination.
The awards' categories are: The winners will be announced on 27 September with a short writeup of their works.

Unlike the rest of its counterparts, Contributor of the Year award is not chosen through a voting system. Rather, he/she will be selected by the PPTH eCon organizer based on his/her performance over the past few years.

The chosen Contributor from PowerPoint Heaven will be featured and interviewed during the eConvention. Participations from Guest and Members will also be carried out through PowerPoint Heaven Discussion Board where you are given the chance to ask any questions you want to know to the featured contributor. The featured contributor will receive an interview request on 1 September and will be made known only on 27 September.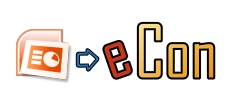 Works submitted around eCon period are eligible to be shown on eCon. If you have any latest works, demos or trailers to show, feel free to submit them through email or on the eCon forum from 27 August to 26 September. Submissions will be shown on 27 September.

Throughout the eConvention, participations and involvements from the Guests and PPTH Board Members are welcomed. PowerPoint Heaven eConvention 2008 forum will be the communication channel for discussions, feedbacks, suggestions, submissions and many more.