Cool Add-Ins - Raptivity Presenter
Create interactive presentations on the fly


Introduction: Putting interactivity into your presentation provides better communications and understandings between the users and you. PowerPoint uses Triggers to facilitate interactions. The use of Triggers, however, requires a significant amount of learning curve. With Raptivity Presenter by Harbinger Knowledge Products, the learning curve is stripped off and replaced by a "what you see is what you get" interface.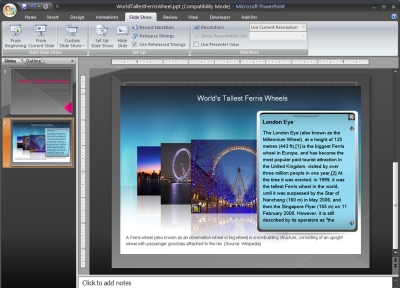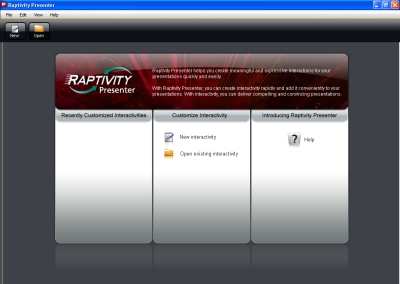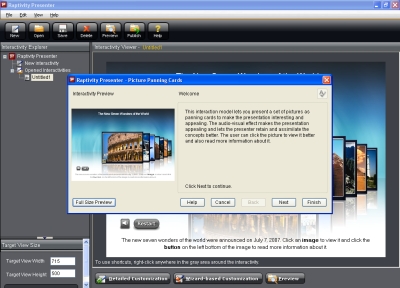 Link: Raptivity Presenter

Price: US$395

Version: 1.0

Notable Features:
Pre-built library of interactions that you can use in your presentation ranging from story builders to business visuals
Easy customization of interactivity without programming
Interactivity output in a single Flash file, easily embedded in PowerPoint


Walkthrough: Harbinger Knowledge provides a 7 days trial of Raptivity Presenter. A trial copy of Raptivity Presenter and a separate essential pack containing pre-built interaction models will be sent to your email after filling in the registration form. Once you are done with the installation, open Raptivity Presenter from your desktop.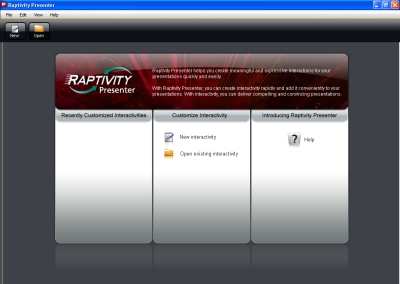 Figure 1: Raptivity Presenter start screen



Start off by selecting New Interactivity. A list of pre-built interaction models grouped into 4 Categories (Slide Jazz-ups, Selective Displays, Story Builders, Business Visuals) are available for you to select from.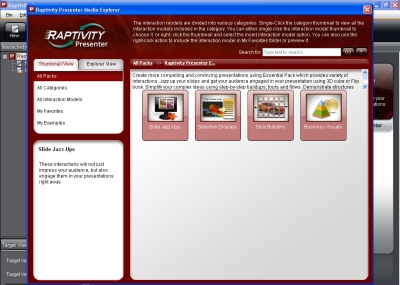 Figure 2: Pre-built interaction models grouped into 4 categories



In this review, we will make use of the Picture Panning Cards from the Slide Jazz-ups. Once you have chosen the interaction model of your preference, you will be introduced with a customization wizard, which guides you step by step through the creation process without the worry of getting lost or overwhelmed by features. Raptivity Presenter not only comes with pre-built library of interaction models, demonstration samples are also accompanied when you choose any of these models.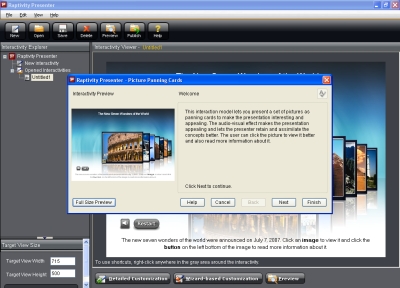 Figure 3: Wizard-based customization



We will proceed by doing a project on "World's Tallest Ferris Wheel". Once you are done with the title and number of pictures to use, click Finish to enter the Detailed Customization mode. This mode allows you to modify the content from the existing sample.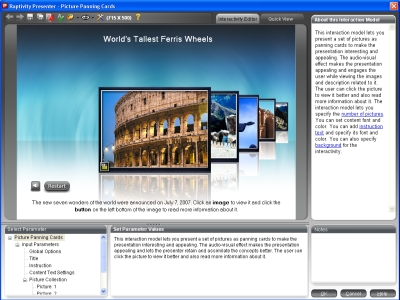 Figure 4: Detailed Customization mode



In this mode, you can modify most of the parameters including pictures, title and description. Basic text customization is allowed where you can choose to change the font type, size and color. You can also decide whether or not to include audio which will be played when the picture is selected. Click Ok to exit the Detailed Customization mode.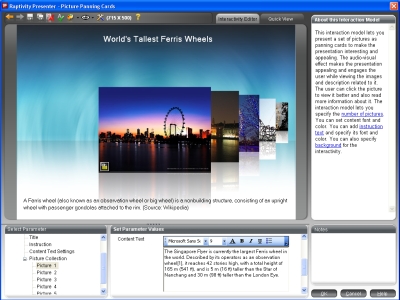 Figure 5: World's Tallest Ferris Wheels



Once everything is finalized, click on the Publish icon located at the top of Raptivity Presenter.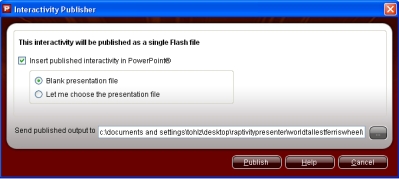 Figure 6: Publishing your work



Three outputs are made available to you. 1 - The raw Raptivity Presenter file (.rpp) which allows you to make further amendments if required. 2 - The flash file (.swf) which allows you to view the project instantly and for publish on the web. 3 - The presentation file (.ppt) which contains the flash file which has been automatically inserted for you.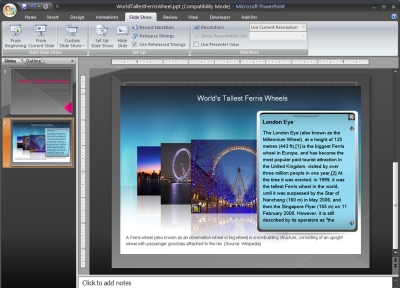 Figure 7: Output on PowerPoint



Raptivity Presenter does not introduce any new feature to your existing PowerPoint. But what makes purchasing it worthwhile are the graphic enhancements, animation effects, friendly interface and all the ready-made interactive models that Raptivity Presenter offers. To top it off, you are given the flexibility to amend the background, color themes, text positioning and other content properties without being restricted by the software.

The interactive models found in Raptivity Presenter are perfect templates for you to showcase your corporate plans, product comparisons, system process flow, interactive quadrant, diagrams and many more. If you are looking for a unique interactive experience for your presentations, Raptivity Presenter is the software you should go for.

Download: World's Tallest Ferris Wheels




Back | Top