Cool Add-Ins - OfficeFX - FXThemes
Add new FXThemes to your OfficeFX


Introduction: OfficeFX includes 14 FXThemes, each with unique variations and transitions. If that is not enough for you, Instant Effects has what they called Theme Suite that will satisfy your wish. Each Theme Suite contains a collection of FXThemes, offering a new variety of styles.

I have spent some time looking through the 4 Theme Suites currently offered by Instant Effects. Each Theme Suite serves different purposes and can be useful depending on the type of presentation you are preparing for. Alternately, for those who are interested in a particular FXTheme, they are also available for purchase individually.

If you haven't seen the OfficeFX Review, click here.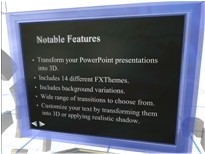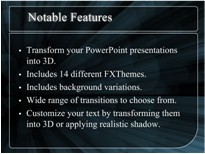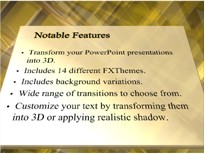 Instructions: Instant Effects has made a Step-by-Step on how to purchase FXThemes here.

Requirement: Requires the full version of OfficeFX.




Theme Suite 1 comes with 10 FXThemes. A number of them are styled with high tech feel, suitable for techonology related presentations. Examples are "Hedra", "The Grid", "Turn Style", and "Information Center" Themes.

Some other FXThemes include "The Globe", appropriate for environmental, nature, science and network related presentations, and "Lava Lamp", an abstract design with 3 different color variants.

Link: Theme Suite 1

FXThemes Included: Dotted Line, Globe, Hedra, Lava Lamp, Paper Stars, The Grid, Turn Style, Number Nine, Information Center, Notebook.

Price: US$99.95

Sample: Using an existing presentation that I have created, I enhanced it with "Information Center" FXTheme from Theme Suite 1. This sample includes a Title and Content Variation for the backgrounds, with Title to Content, and Content to Content Transitions.

Download: Information Center Video Demonstration

Note: This is a screen captured video in wmv format. It has been compressed into small size and low quality for download efficiency. It does not represent the actual quality of the presentation.

Theme Suite 2 comes with 6 FXThemes accompanied by different metallic variants. A new method has also been introduced for advanced users to customize the base theme appearance. One example will be "Slate" FXTheme, which has a logo configurable frame that allows you to place in your logo.

Link: Theme Suite 2

FXThemes Included: News Break, Portal, Ring World, Slate, Vanishing Point, World & Moon.

Price: US$99.95

Sample: Using an existing presentation that I have created, I enhanced it with the Gold variant of "Portal" FXTheme from Theme Suite 2. This sample includes a Title and Portal Left Variation for the backgrounds, with Title to Portal, and Swap Left Transitions.

Download: Portal Video Demonstration

Note: This is a screen captured video in wmv format. It has been compressed into small size and low quality for download efficiency. It does not represent the actual quality of the presentation.

Theme Suite 3 is a low cost suite for those who have limited budget. It offers 3 FXThemes with color variants of red, green and blue. Examples are bright themed "Dots" which catches the eyes of the audience, and the slick looking "Tuber" FXTheme with its tuber transition.

Link: Theme Suite 3

FXThemes Included: Dots, Tuber, Blue Grid.

Price: US$49.95

Sample: Using an existing presentation that I have created, I enhanced it with "Dots" FXTheme from Theme Suite 3. This sample includes a Title and Content Variation for the backgrounds, with Zippy and Dot Paint Transitions.

Download: Dots Video Demonstration

Note: This is a screen captured video in wmv format. It has been compressed into small size and low quality for download efficiency. It does not represent the actual quality of the presentation.

Theme Suite 4 offers 10 new FXThemes. Six of these FXThemes can be used in either 4:3 or 16:9 presentation formats. A few to mention here includes "Golden Globe", an elegant FXTheme with a rotating globe as the backdrop and cool matrix based "Golden Grid" FXTheme. Also look out for the "Desktop Folders" FXTheme, which introduces a 3D heirarchical desktop folders layout suitable for use in business presentations.

Link: Theme Suite 4

FXThemes Included: Rotating Blocks, Blue Streak, Cloud, Desktop Folders, Flat Earth, Golden Globe, Golden Grid, Pyragrid, Sand Storm, Teal Tubes.

Price: US$99.95

Sample: Using an existing presentation that I have created, I enhanced it with "Golden Globe" FXTheme from Theme Suite 4. This sample includes a Title and Content Variation for the backgrounds, with Title to Content and Straight Streak Transitions.

Download: Golden Globe Video Demonstration

Note: This is a screen captured video in wmv format. It has been compressed into small size and low quality for download efficiency. It does not represent the actual quality of the presentation.




Back | Top