Cool Add-Ins - Train Signal PowerPoint 2007 Training
Avoid Death by PowerPoint with Train Signal PowerPoint 2007 Training Package


Introduction: If you are someone new to PowerPoint 2007 or someone who is learning how to create a professional presentation, PowerPoint 2007 Training Package by Train Signal is exactly what you are looking for. Train Signal PowerPoint 2007 Training Package stands out by covering the best of both worlds: 1 - PowerPoint, 2 - Presentations.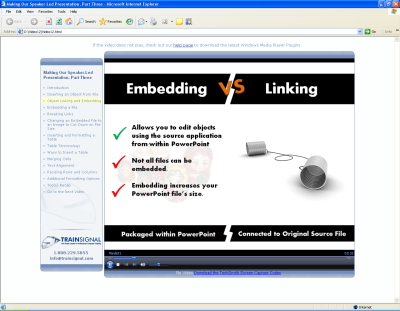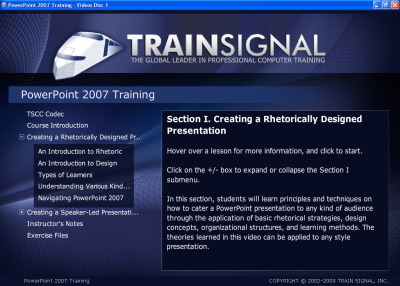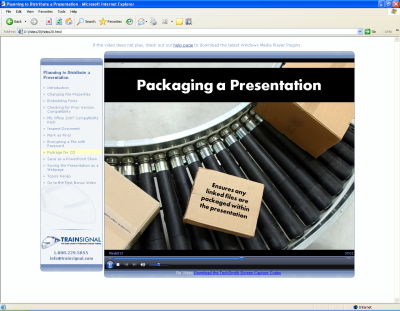 Link: Train Signal PowerPoint 2007 Training Package

Price: US$299

Notable Features:
Learn how to use PowerPoint 2007 through Step by Step training videos
Learn how to avoid Death by PowerPoint
Learn how to prepare yourself for presentations
Learn how to create sophisticated Flash-Style presentations


Walkthrough: PowerPoint 2007 Training by Train Signal includes 4 DVDs - 2 training videos discs and 2 additional contents discs. The package covers 17 hours of in-depth PowerPoint 2007 training and presentations, from navigating through the 2007 Ribbon interface, to creating advanced animations. Exercise files are also available for practice while watching the training videos.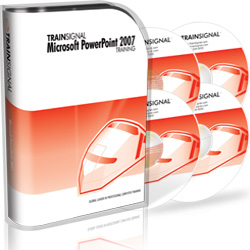 Figure 1: Train Signal PowerPoint 2007 Training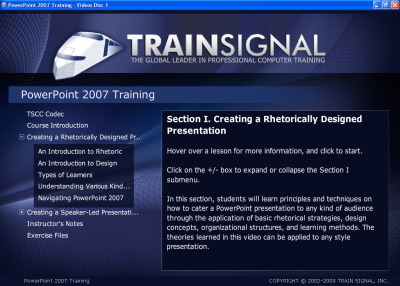 Figure 2: Software's Menu Interface



To play the training videos, you will first need to install the TechSmith Screen Capture Codec. After the installation, the training starts off with a fairly long introduction on the author, Scenario-Based Training explanation and topics that will be covered in the training. And if you are a completely business guy without prior IT training, follow on with the Terminology and Commands walkthrough video.



Figure 3: Course Topics explanation



Unlike other common software training packages, you will find yourself filled with extensive presentations knowledge (Rhetoric and Design) before you can actually learn how to play around with PowerPoint 2007. My suggestion is to follow the training format strictly which will allow you to avoid the Death of PowerPoint effectively.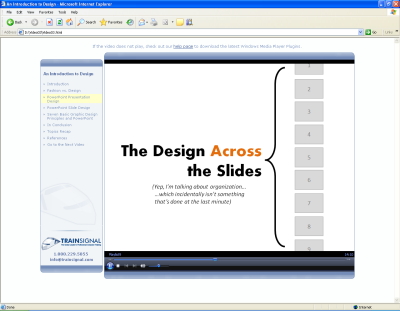 Figure 4: Introduction to Design



PowerPoint training starts off on Lesson 6, introducing you to the new features in PowerPoint 2007, navigating through the Ribbon interface and building templates. You will then be introduced to a scenario which will be applied throughout the remainder of the course, followed by working with SmartArt and Charts.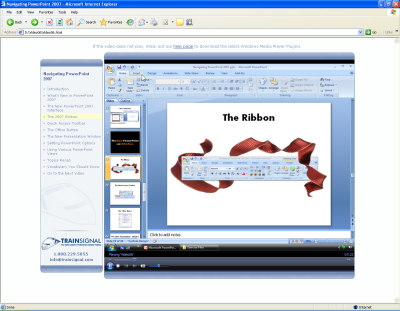 Figure 5: Navigating with the Ribbon interface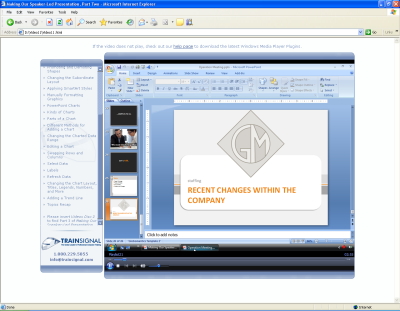 Figure 6: Scenario-Based Training



Wrapping up Disc 1, the second disc of the training moves on to manipulating with Objects file (e.g. pdf, videos, etc) and creating tables. You will then be taught on how to prepare for your presentation using speaker notes, handouts, rehearsing timings and many more. Being a presentation-focused training, you will learn useful tips such as using speaker notes the right way and various opinions on distributing handouts.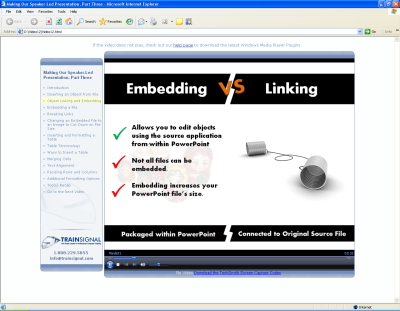 Figure 7: Embedding Vs Linking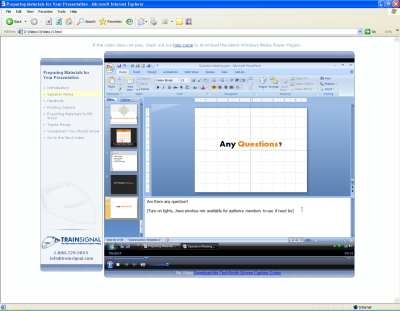 Figure 8: Using Speaker Notes the right way



The next 2 lessons take you through creating an interactive (Kiosk-Style) and multimedia (Self-Running) presentation using animations, hyperlinks, action buttons and various multimedia files. PowerPoint distribution. The training wraps up with several methods on distributing a presentation.



Figure 9: Inserting Shockwave Flash Object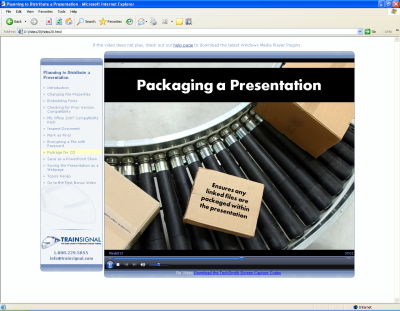 Figure 10: Packaging a presentation



At the end of the training, if you feel that you are now confident enough to play around with more advanced techniques, 2 bonus videos on Flash-Style animations and Add-ins are included to broaden your knowledge on PowerPoint.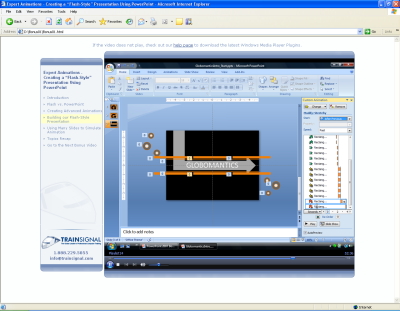 Figure 11: Creating sophisticated Flash-Style animations



PowerPoint 2007 Training by Train Signal covers both PowerPoint 2007 tutorials and presentations knowledge. What makes this training package effective is how well these two areas are blended together, providing what you will need to know at the right time rather than separating them as two different subjects. It offers a lot more than what a PowerPoint training course or package should. Whether you are learning how to use PowerPoint 2007, improving your presentation skills, or mastering advanced PowerPoint techniques, Train Signal has them all in one package.




Back | Top