Microsoft Office PowerPoint 2007 - Visual Tour
OfficeArt Effects on Shapes and Images


OfficeArt is the graphics platform for the Microsoft Office System. The dynamic OfficeArt in PowerPoint 2007 allows you to spice up your plain presentation with just a few clicks. It is simple and easy to use. No advance technique is required.

In this visual tour, you will be able to see how OfficeArt effects can be applied onto shapes and images, and also some samples on pre-made effects.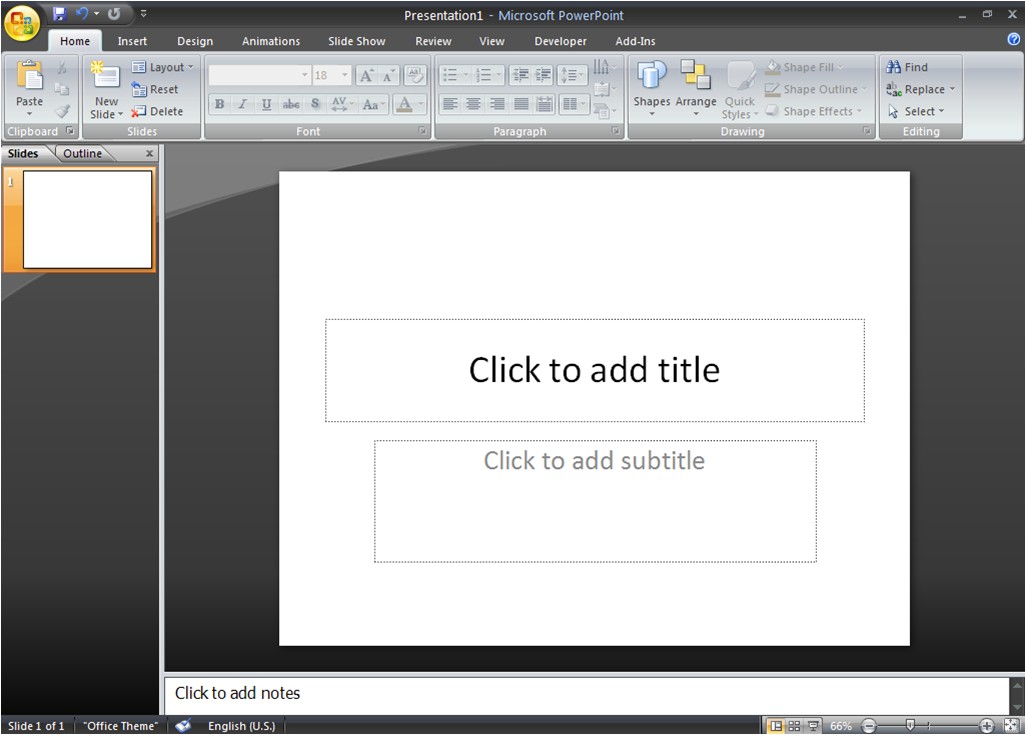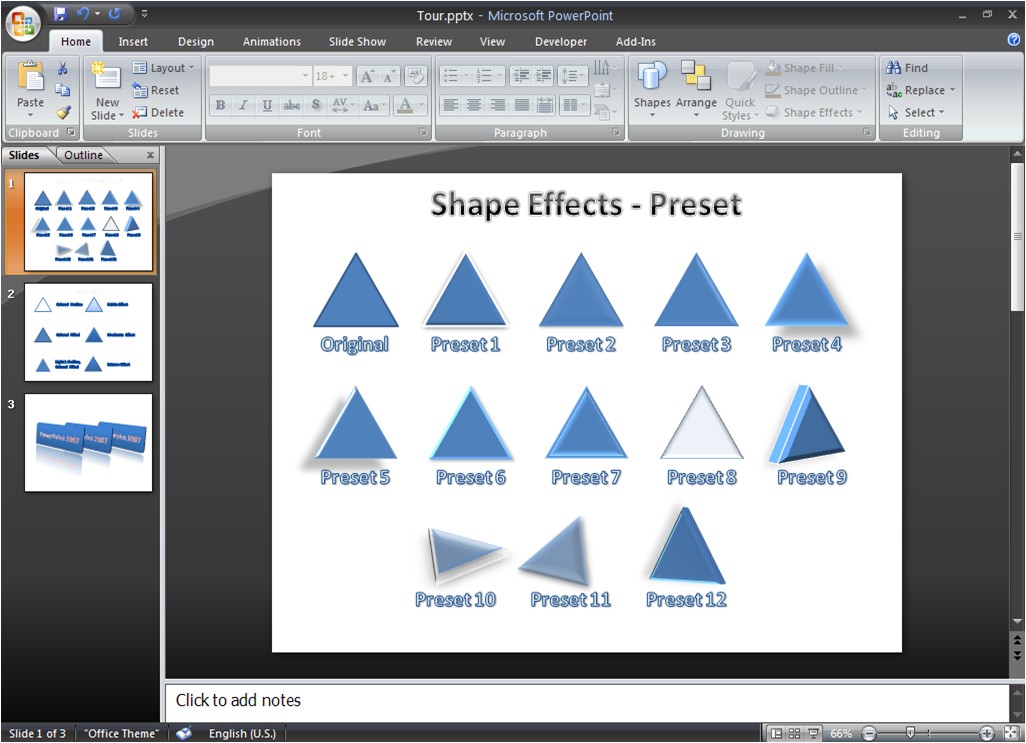 Download: OfficeArt

The interface in Office 2007 has been redesigned. The plain old toolbars have now been replaced with ribbons. Below is an example of how PowerPoint 2007 looks like.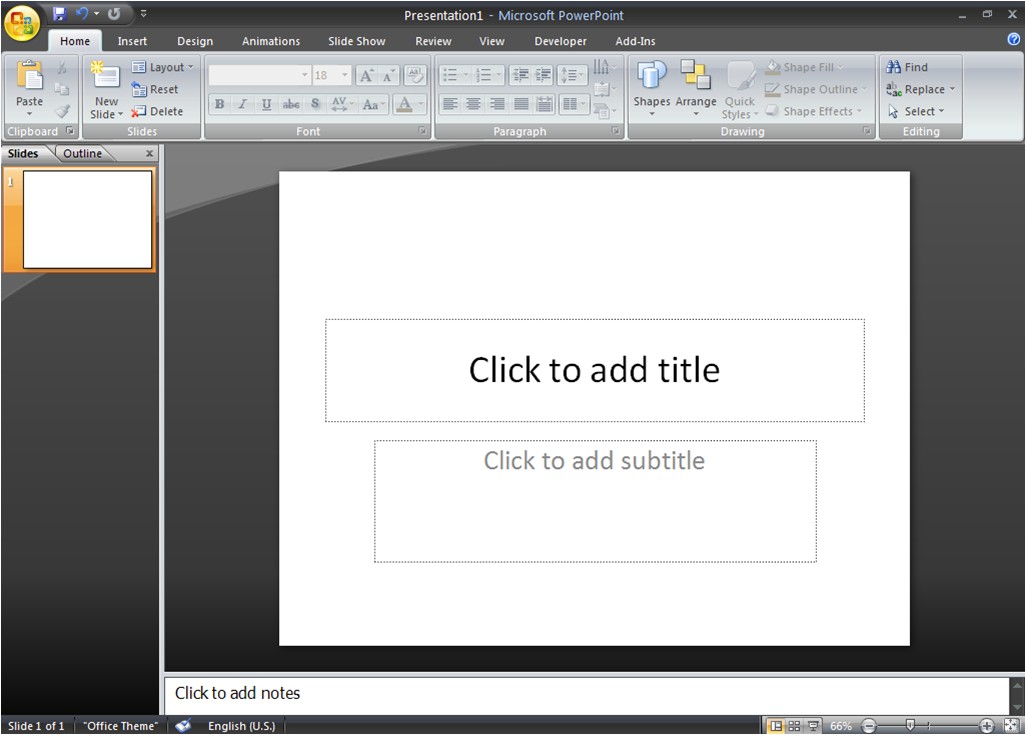 Figure 1: Interface in PowerPoint 2007



Lets start off with the shape effects. When you add a shape onto the slide, a Drawing Tools Format tab will appear. This Format tab allows you to make changes to the appearance of the shape. Click Shape Effects (under Shape Styles) > Preset. There are 12 presets ready made for you.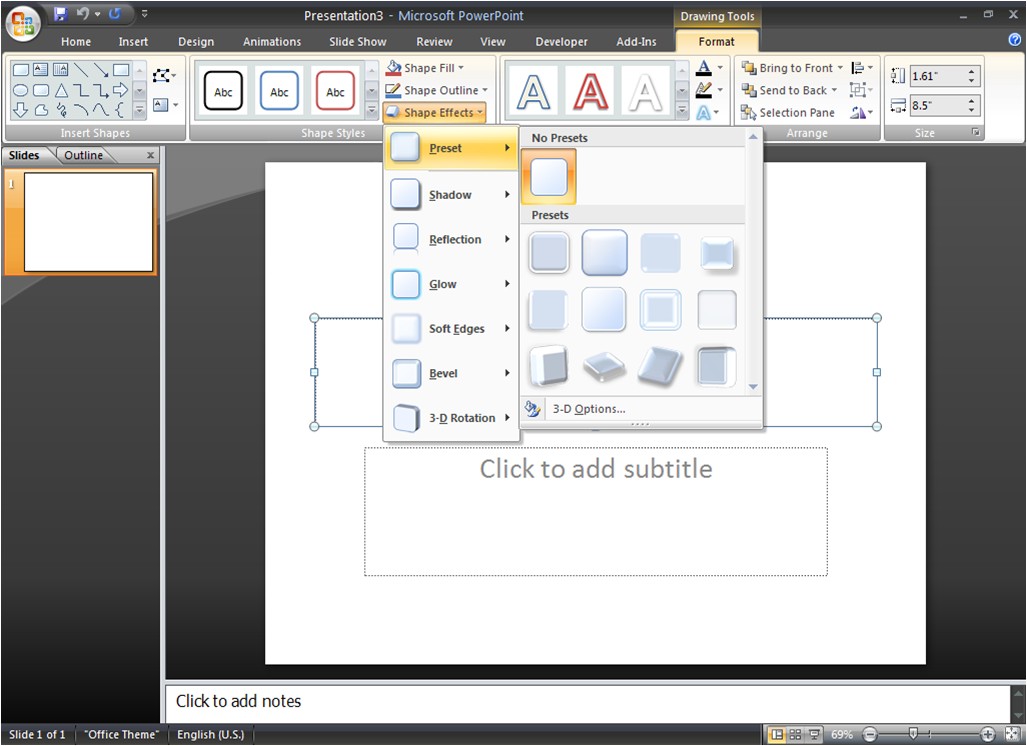 Figure 2: 12 Presets



Using a triangle shape, here's how each of the preset looks like when it has been applied.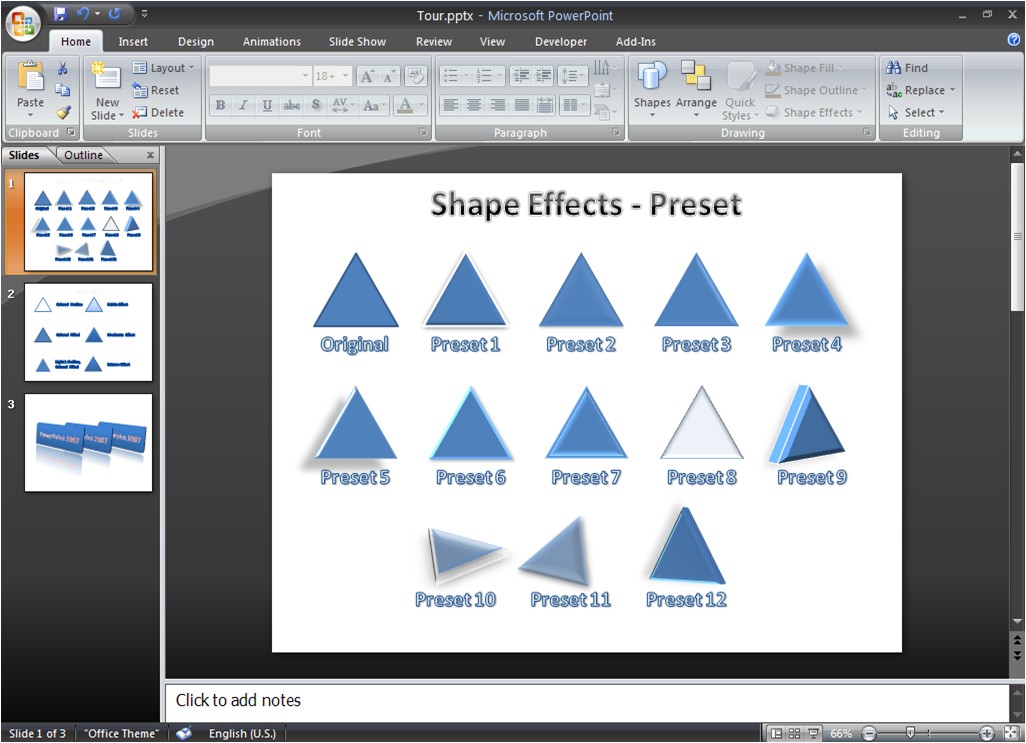 Figure 3: 12 triangles with different presets.



Next, we will take a look at Quick Styles. Quick Styles are a collection of formatting options. Unlike presets, they do not contain 3D rotations. There are 7 sets of colors which you can choose from. You can also change the color sets by choosing another Theme Colors from the Design tab. The Quick Styles can be accessed from either the Home or Drawing Tools Format Tab.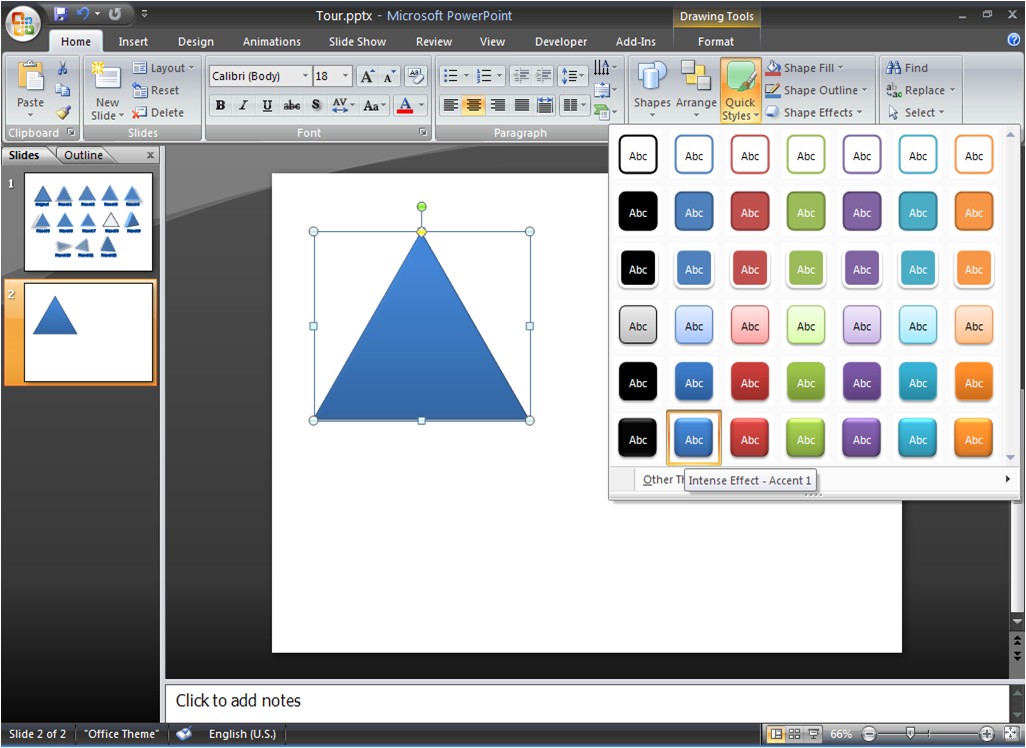 Figure 4: Quick Styles



Each set of colors contains 6 different styles:
Colored Outline
Colored Filled
Light 1 Outline, Colored Filled
Subtle Effect
Moderate Effect
Intense Effect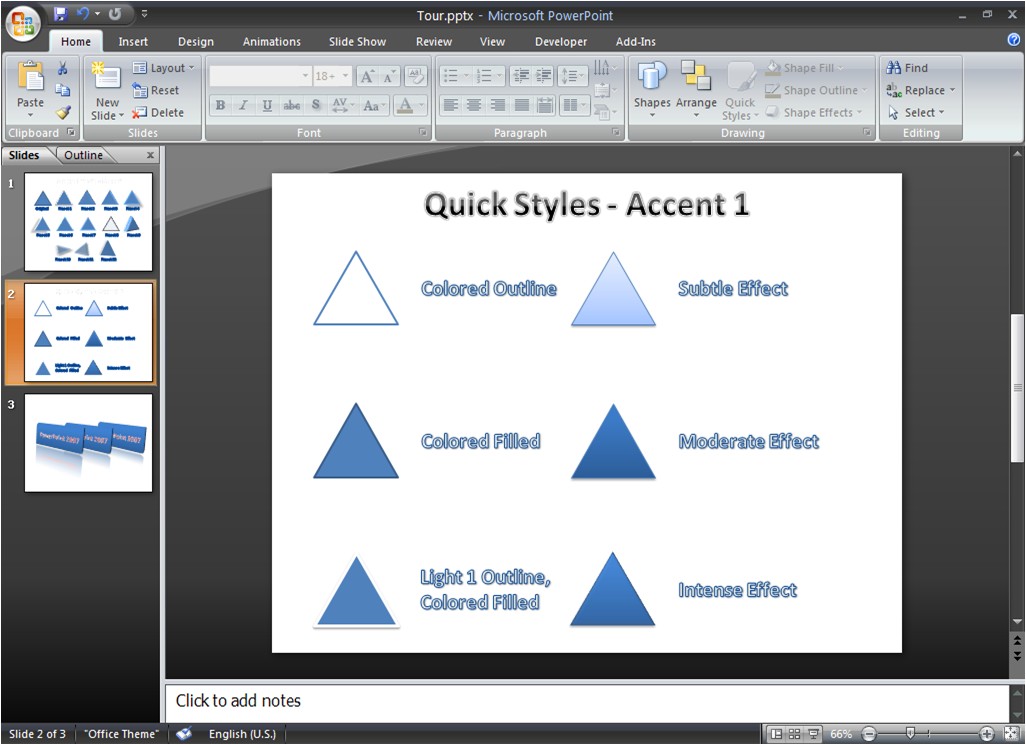 Figure 5: 6 triangles applied with different Quick Styles.



An advantage of using Quick Styles is that it is controlled by Theme Effects (Under Design tab). For instance, if you change to a different Theme Effects, all quick styles will then have another set of formattings.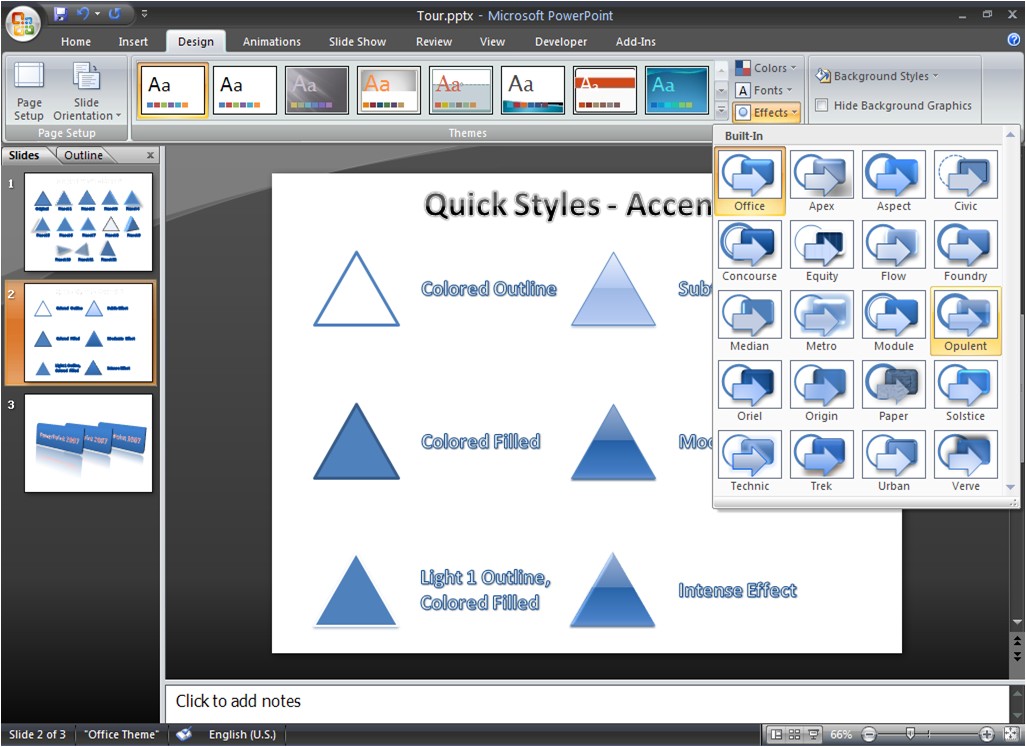 Figure 6: Opulent Theme Effect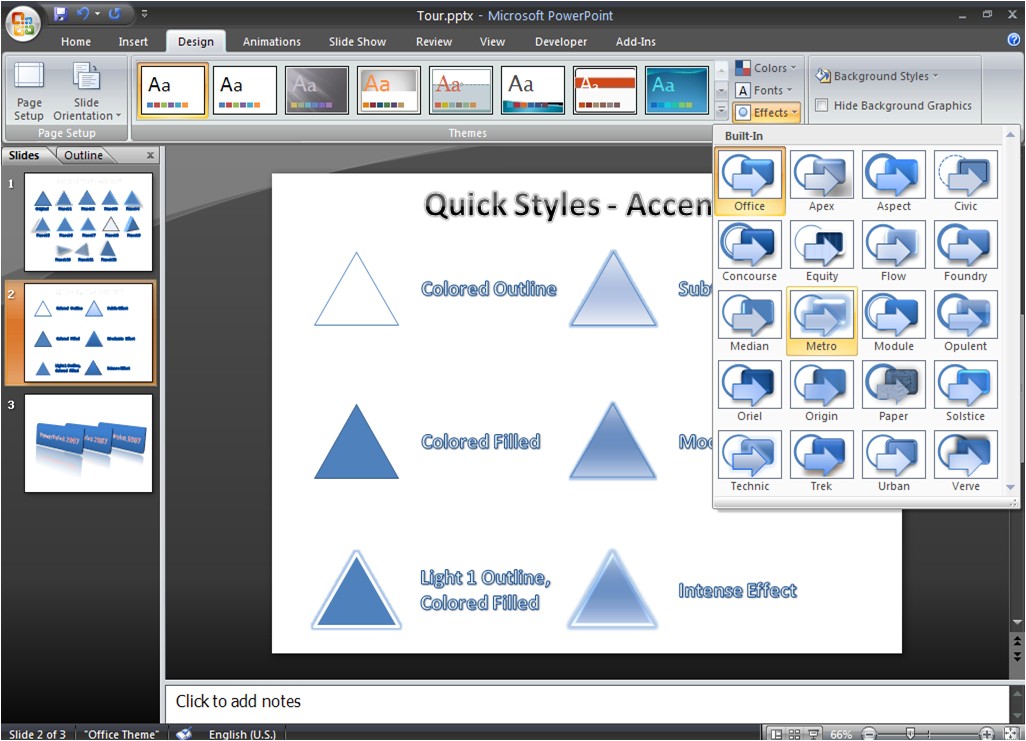 Figure 7: Metro Theme Effect



You can also try mixing with different combinations. For instance, the reflection setting contains 9 Variations which you can choose from.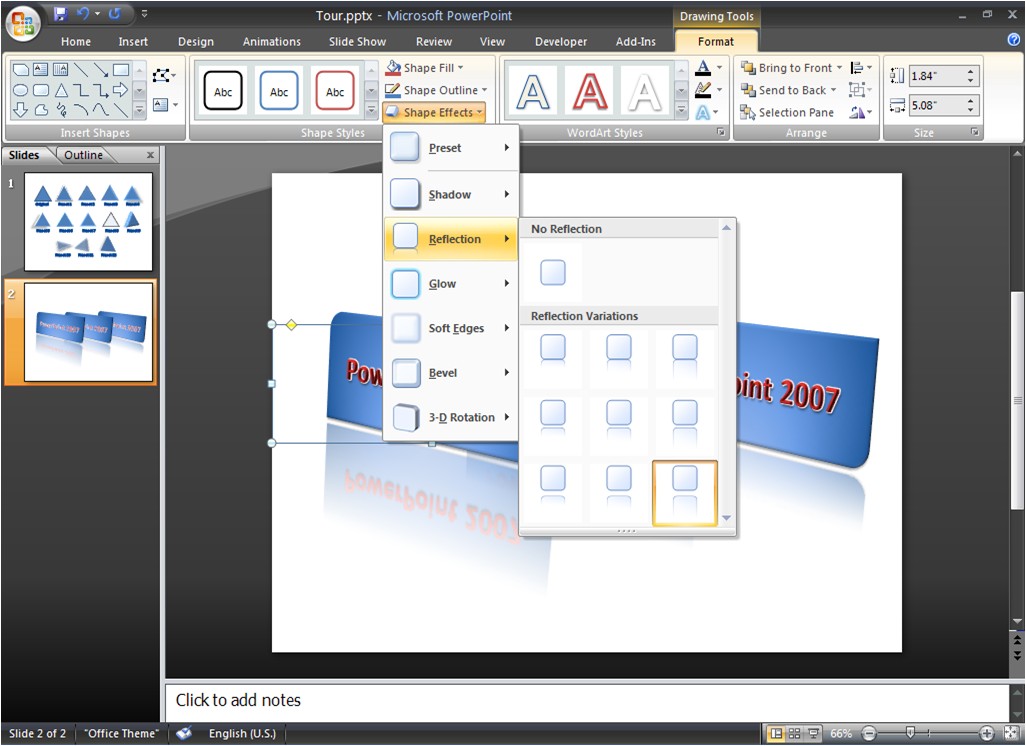 Figure 8: Reflection Variations



Below is an example of 3 similar shapes with Full Reflection, Half Reflection and Tight Reflection applied respectively.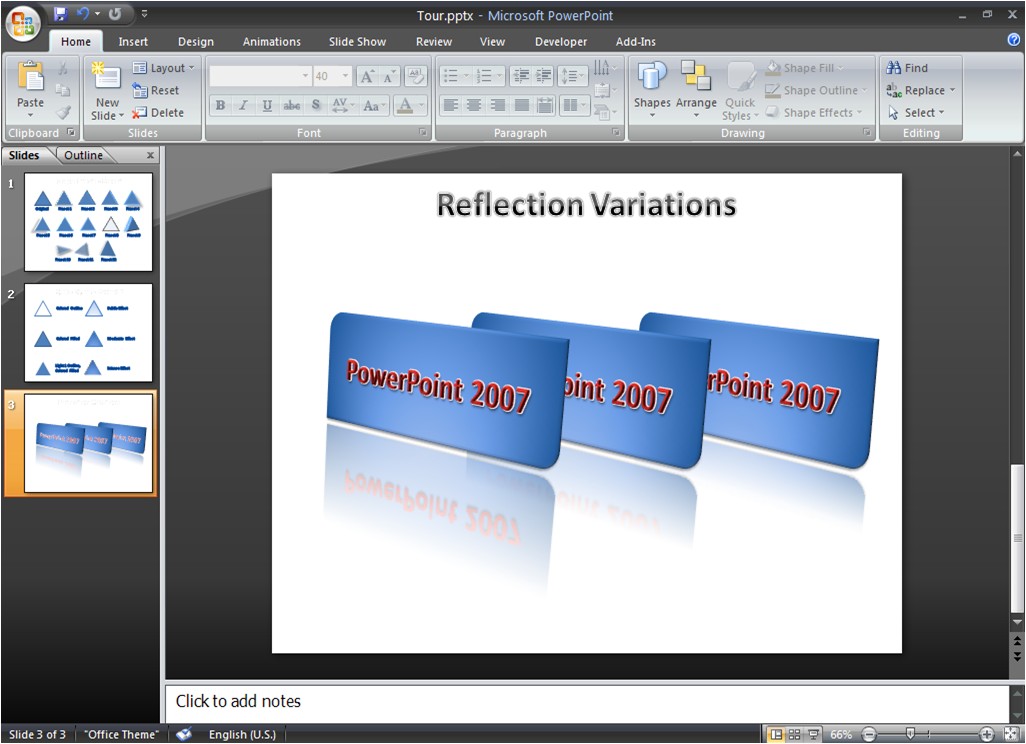 Figure 9: Reflection Variations: Full Reflection, Half Reflection and Tight Reflection



Here's how it looks like with Metro Effect applied.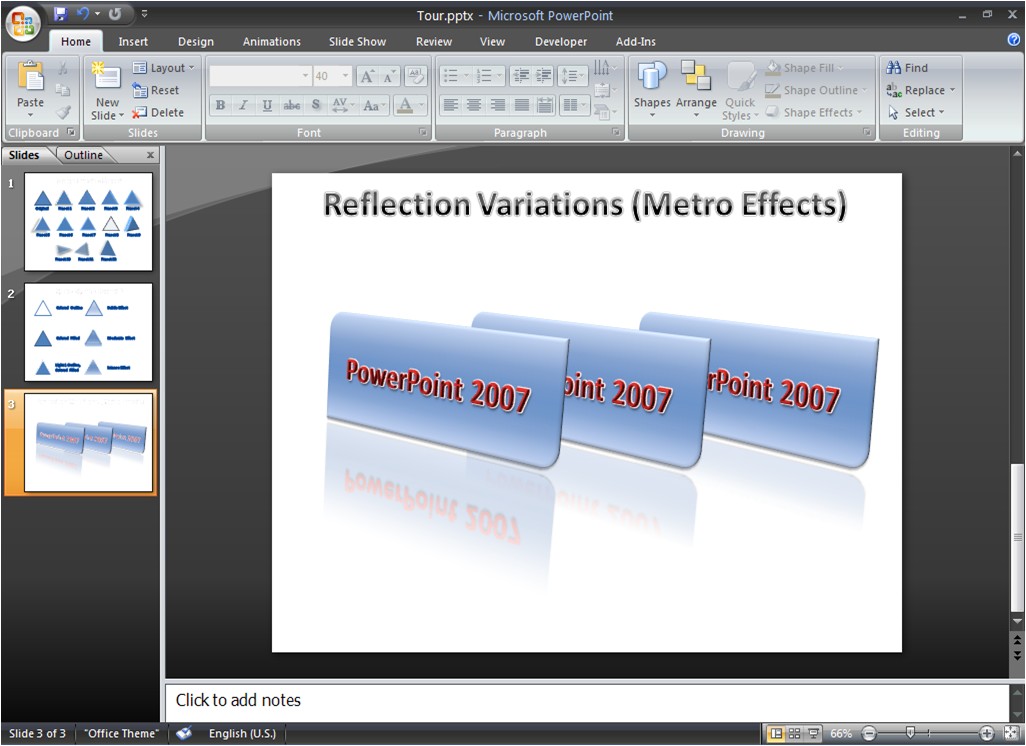 Figure 10: Theme Effect: Metro applied.



In addition, you can also apply Metro Color.



Figure 11: Theme Color: Metro applied.



Now, let us take a look at the Quick Styles that can be applied to Pictures. There are 28 Quick Styles for Pictures. These Quick Styles can be accessed through Picture Tools Format tab.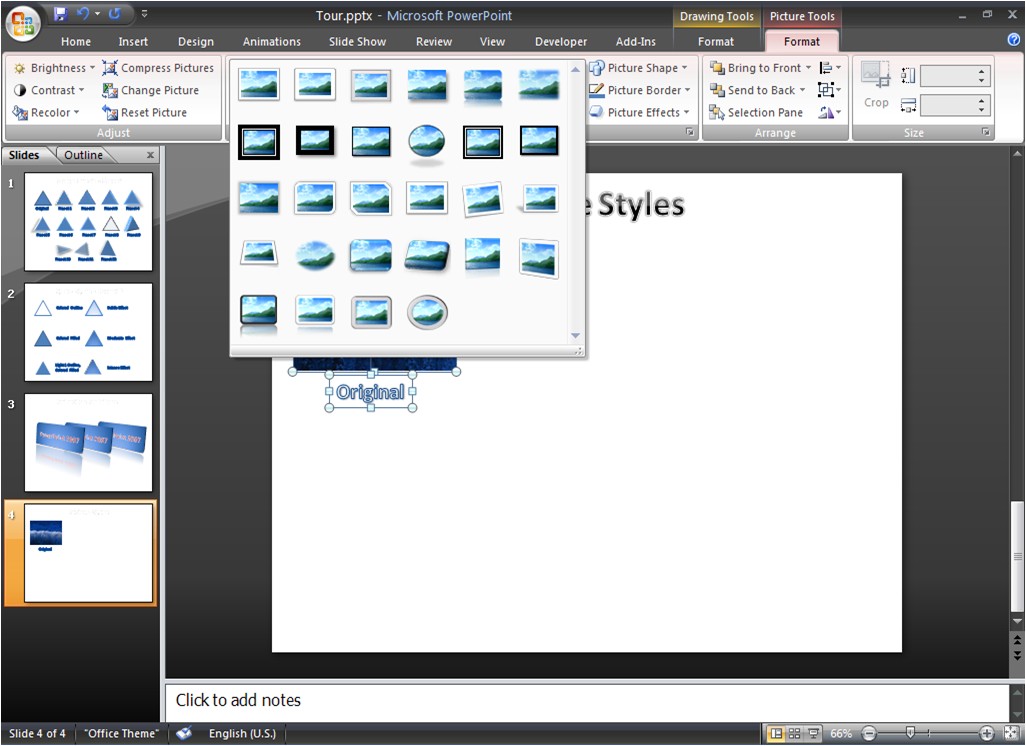 Figure 12: Quick Styles for Pictures



The 28 Quick Styles for Pictures are:
Simple Frame, White
Beveled Matte, White
Metal Frame
Drop Shadow Rectangle
Reflected Rounded Rectangle
Soft Edge Rectangle
Double Frame, Black
Thick Matte, Black
Simple Frame, Black
Beveled Oval, Black
Compound Frame, Black
Moderate Frame, Black
Center Shadow Rectangle
Rounded Diagonal Corner, White
Snip Diagonal Corner, White
Moderate Frame, White
Rotated, White
Perspective Shadow, White
Relaxed Perspective Shadow, White
Soft Edge Oval
Bevel Rectangle
Bevel Perspective
Reflected Perspective Right
Bevel Perspective Left, White
Reflected Bevel, Black
Reflected Bevel, White
Metal Rounded Rectangle
Metal Oval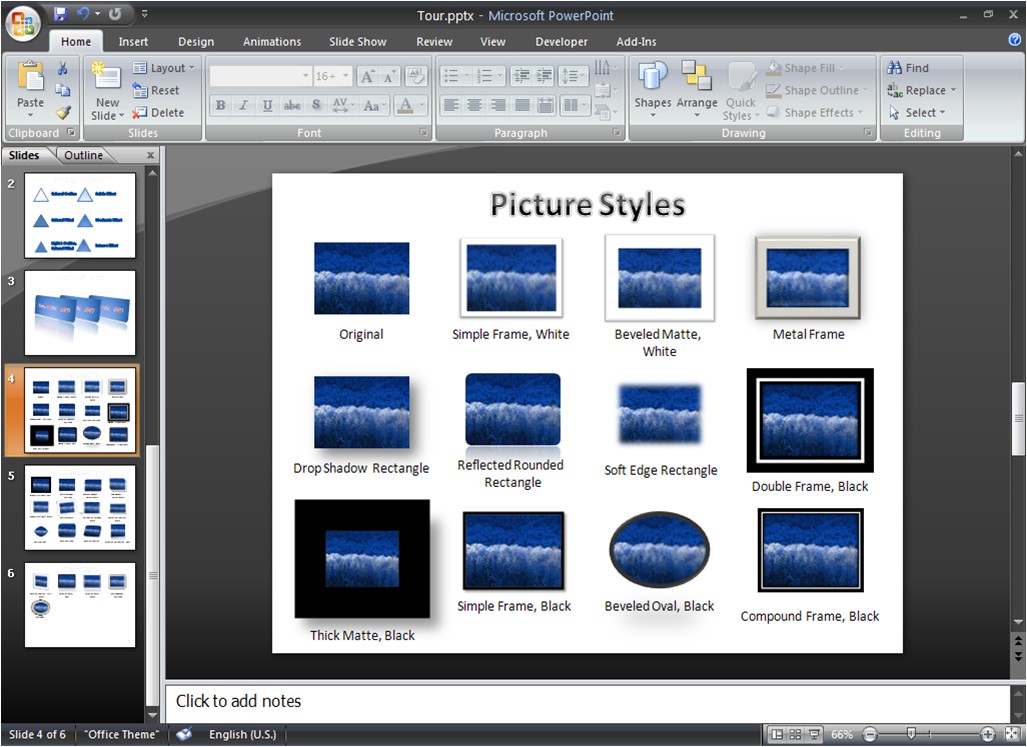 Figure 13: Quick Styles for Pictures 1

Figure 14: Quick Styles for Pictures 2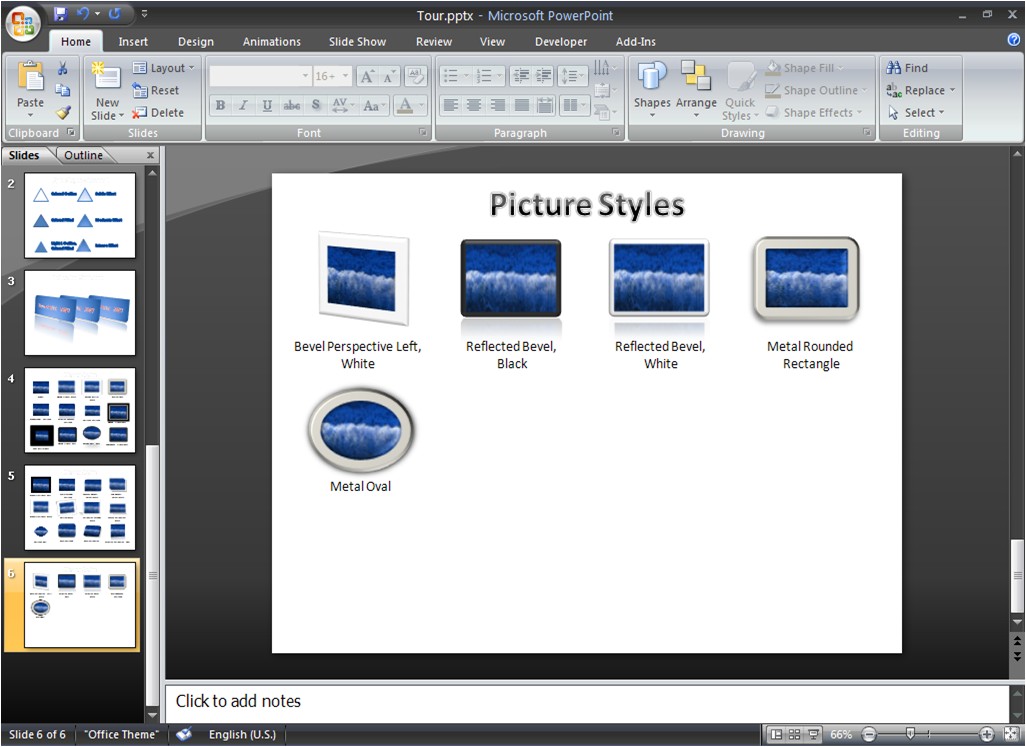 Figure 15: Quick Styles for Pictures 3






Back | Top